The Letter Code Quiz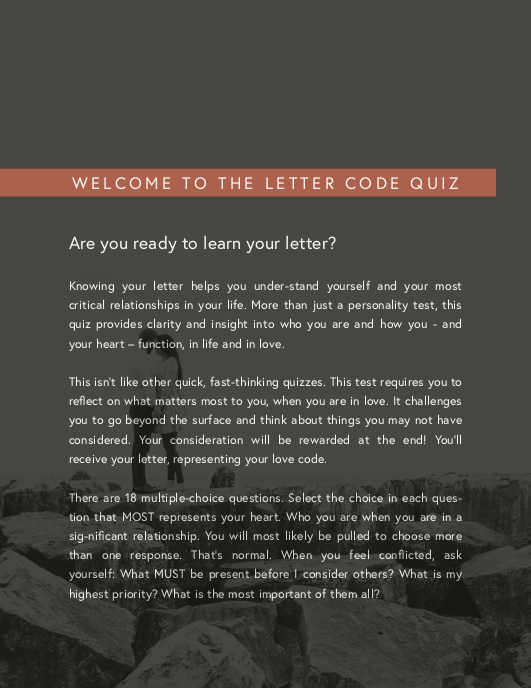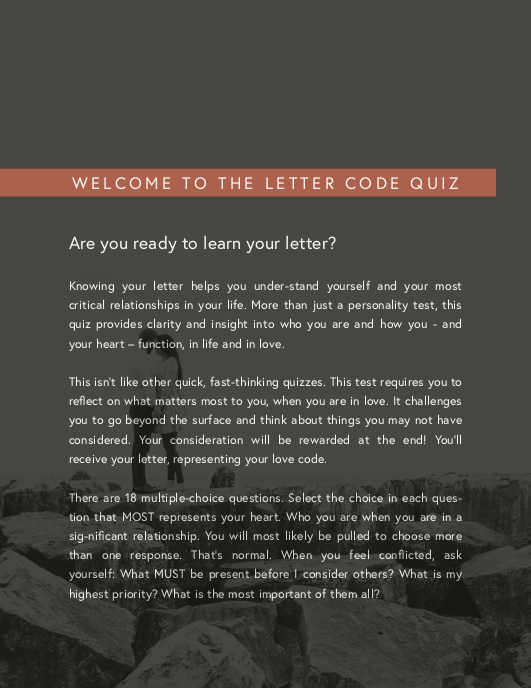 The Letter Code Quiz
Are you ready to learn your letter? Dr. Krystal White's science-based questionnaire will identify your letter code, and unlock limitless and abundant love.
Available as an interactive online quiz and printable file. Quiz to be emailed directly to you upon purchase.
About The Quiz
Knowing your letter helps you understand yourself and your most critical relationships in your life. More than just a personality test, Dr Krystal White's science-based quiz provides clarity and insight into who you are and how you - and your heart – function, in life and in love. At the end of these eighteen thought provoking questions, you'll receive your letter, representing your love code. It's time to learn your letter, and understand why you love the way you love.
Dr. Krystal White is a leadership psychologist with more than 15 years of experience helping people and their teams thrive. In addition to being an author, she is a change management strategist, leadership development expert, motivational speaker, and executive consultant for individuals and corporations.
For over a decade, she partnered with military leaders in the medical department, most recently serving as the Chief of the Workforce Engagement Office at Landstuhl Regional Medical Center. There she designed and directed renowned professional leadership programs, served as an organizational culture advisor and build high performing teams.
Clinically and organizationally, she specializes in crafting relationally resilient, emotionally intelligent, results driven leaders.
She is passionate about creating a sense of trust in communities, and connecting others to their true source of power.
Dr. Krystal White has served as a radio personality, a podcast host, an educator, a group fitness instructor and cognitive performance coach. She has a PhD in clinical psychology, is a board certified child and adolescent psychologist, and has completed a medical fellowship at Madigan Army Medical Center in developmental pediatric psychology. Dr. Krystal White also holds a Master's of Christian Leadership from Fuller Theological Seminary, and a Master's degree in mind, brain and education from Harvard University.